I have been selling stock photos Online since 2007, and at that time I could easily make well over $600 per week through selling my illustrations via various stock photo websites. But before that I always wondered how much money can be made selling stock photos online.
You can cross post your stock photos to multiple websites and earn a good flow of income from all Stock image websites. Earnings per image download can range from $0.35 to $5.80 for stock image download and around $50 – $100 for Extended License downloads. But you can make a lot more money if you follow the tips that I shared in this post.
It is best not to be exclusive with one stock photo website. Uploading the same portfolio of work to multiple sites can bring in a consistent flow of income which depends upon how many images you have uploaded.
My Story of Selling Stock illustration and Money that I Made
Since I am living in a country where $ currency converts well for over 10 years or so I was making good money by selling stock illustrations and images. Sounds crazy right? . For a graphic designer and illustration artist it is a dream!
Dreamstime pays between 25% and 60% commissions, resulting in $0.35 to $12.24 for a royalty-free download. You can earn up to $40.80 for extended licenses. In addition, Exclusive users get $0.20 per accepted uploaded image.
I kept of creating and submitting illustrations religiously……..But then….I decided to alter my path as life happened and I moved on from creating more stock illustrations to selling them as part of products through POD websites. until recently I checked back in my portfolio of work and still there was a good chunk of money waiting for me. This is why I am sharing my starters journey with you here in this blog post so anyone who is a beginner can understand how much and how soon money can be made through selling photos.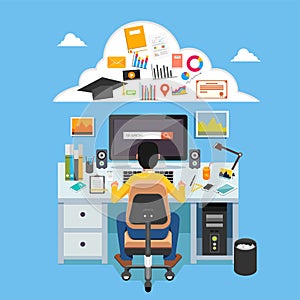 © Photographer: Pratyaksa | Agency: Dreamstime.com
How much money I make through Dreamstime
Here is a screen shot of my earning back in 2007 -9 by Selling Stock illustrations from Dreamstime alone.
You can see that I was able to get an average of $60-70 per month from dreamstime at that time my portfolio wasn't big enough as well. Which was pretty decent as a starting bonus coming from a single website.
Most of my images were vector illustrations and EPS files, Dreamstime accepts eps files that are good and clean . If you are wondering how to ready an illustration for submission then you might be interested in this tutorial where I shared how to clean your illustrations for submission as vector illustrations
Then gradually I started posting the same illustrations to other stock photo websites. I have covered all the best place to sell photos online in another blog post. In this post I will be drilling further on the idea of how much money you can actually make by selling photos and illustrations.
At that time i created illustrations in bulk and i really loved it too, I gave myself challenge to create 100 illustrations ( Even wrote a blog post in 2008 about it ).
Shutterstock works great for contributors as well, at that time Shutterstock had an active forum that helped a lot when it came to driving traffic to our new submissions as a contributor. See below my limited stats from 2007. I am sharing stats from that time because I wanted to show how much you can start making within your first month from these websites.
My portfolio started growing steadily and I started uploading them to other stock photo websites. Later on when I lost the drive to create more illustrations and stock photos and changed my direction into Art Licensing my works. My portfolio stopped growing and so did my earnings.
So How can you make a steady stream of income? IF you are deciding to go down this route then the only way you can earn a good chunk of money through selling photos and illustrations is by keeping your portfolio alive.
You earn between 15% and 40% commission when one of your images or videos is downloaded at Shutterstock. This means you get paid $0.10 to $5.80 for images, $10.20 to $39.80 for extended licenses, and $1.25 to $47.92 for each video.
But in order to earn a good passive income through these websites you must be publishing content regularly, updating your image library, adding more content and uploading them to these websites. This doesn't mean that you can just throw these out on the websites. You will be required to do a proper keyword research add these keywords in titles and tags of the photos in order to make more sales.
A few of my illustrations that are from back in 2007 are not that well keyworded as at the moment making money on these websites was comparatively easy.
How to increase sales and make more money Selling Stock Photos Online?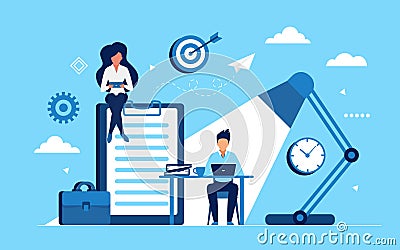 © Photographer: Julia Kutska | Agency: Dreamstime.com
Here are a few of my tips if you would like to maybe start selling or increase your earning through stock photos. This is not a get rich quick scheme at all so if you are one of those people who are hoping to make good money then maybe this path is not the right one for you.
So what is required of you if you choose to stay the path?
1- Consistency
Keeping a consistent flow of new images and stock photos is very important. This will not only keep your portfolio growing but also each new upload will push you towards recent images search results hence pulling your complete portfolio to front of the websites. Hence making more sale , hence making more money selling stock photos.
2- Keeping up with the Trends
Keeping up with the trends is very important. All year round there is consistent demand for new images and stock photos and illustrations , vectors, video footage and more. So as a creator, contributor and artist you must have a mindset of pre-projection of which images are going to be search next.
For instance right now we are entering Oct , marketing companies and clients have already created the advertising material, products or updated their online content with Halloween images. So if you are creating halloween images, illustrations or stock photos then you must have them already up on the website a month before.
I keep myself updated through a simple calendar that is well 2 months in advance for every holiday so I really get the idea about when to start creating which illustrations.
3- Keyword research
Doing keyword research has become integral part of if process now. As your title and tags must contain words that are being searched. You can use google keyword planner or any other advance keywords planner to find the right words and tags.
I really love the shutterstock keyword generation tool which really helps in finding searchable keywords. Once I have generated keywords inside shutterstock I take it to other platforms and mostly use the same keywords. So if you are batching your upload process then this becomes really easy to post on multiple sites in less time.
4- Quality over Quantity
Now when i look at my work that was posted & mind you got sold and STILL does is not at all I would approve today for posting. People can buy such ugly images as well at times that makes me wonder really? someone needed that ?.
Not really ugly but a very simple illustration of mine of a stick figure fairy made me around $2000 cumulatively over the years. I even received a thankyou note from someone who purchased my illustration to create a memory book for her mother.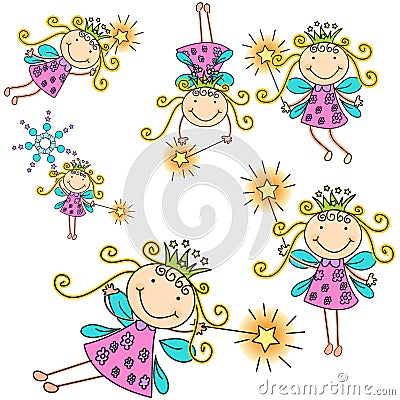 © Photographer: One8edegre | Agency: Dreamstime.com
Example of how much a stock illustration sells for
You can see the breakdown of cost over the years for this particular illustration the range of amount you can earn varries.
You get paid more for a larger file size or a vector format.
The same image gets sold for various keywords defined by the searcher of image. Keeping your tags various will help you get noticed and make more sales.
Same image got sold for $13 and $0.35, $2.0 , $7.5 , $5. 7 so it really depends upon the size and the subscription plan of the buyer.
Example of Various Prices for Various Sizes of images Sold
The feeling is great when you recieve this kind of appreciation. My stick figure fairy couldnt give me good monetry return if you think of it . But yeah she is cute.
5- Sharing your portfolio on Social Media
It is advisable to drive traffic to your portfolio, more eyes fall on your work it is better. Pretty much all of the platforms have widgets and embed options for images or portfolio so why not?. So one of the aspects of how much money can you make selling stock photos is how much you bring it in front of the right audience.
One of my highest money making months on stock photo websites have been the ones where I shared my portfolio in the forums and over social media as well. More traffic comes to your portfolio more money you will be able to make.
It is said that 20% creativity and 80% marketing, with artists and creators this part becomes a bit difficult when they immerse themselves so much in the creativity aspect that they do not spend their energy over marketing it. Marketing is what brings in more clients and hence more commission and money.
6- Signing up as a referral
The best thing that I did besides creating illustrations for stock photo websites to make money was to sign up as their referral. Referral is when you invite others to signup to their website either as a seller or a contributor. You can make money by selling stock photos and illustrations and while doing that you can also make money by sharing their website. So it is a win win.
For example if right now if you went and signed up as a contributor , since you are wondering how much money can you make selling stock photos online, I will get a %age of commission every time someone buys your portfolio too and/or if someone buys stock photos or illustrations using the links that I shared.
So even if you are not making money through your portfolio of stock images you can still make some extra income by sharing it.
You must have seen other free vector illustration and image sharing websites that do it for free, have a portion of their search pages taken over by Shutterstock or Dreamstime. This is how they make money, ie by driving traffic to shutterstock . You can view this in action right here 🙂
Signup as a Contributor on Shutterstock Here
7- Bundle and Sell
Now if you are like me and would like to branch out and multiply on the amount of money that you make through selling stock photos you can very well create products and sell them through other websits. Afterall you have a great portfolio of work now and you can definately cash it out in multiple ways. One way is to sell it through your own blog or website ( Set up a Woocommerce Store ) , You can sell them as bundles through Etsy ( Claim 40 free listings to get started) or You can sell products created using your images through other POD websites .
Conclusion: Can you + How Much Money can be made through stock photo websites.
You can earn well over $1000 or so with a portfolio big enough and good enough by selling your same work through multiple websites. And if you create and sell them further through other websites beside stock photo website you can easily create multiple $$$.
Printables, graphics, backgrounds, vectors, illustrations, fonts, and design elements given on this site are for personal use only. You may not alter them or redistribute them for free or monetary gain without written consent from the author, Asma Murad. If you want to share these resources with others, please share the link to the blog post. Teachers/educators: You may share these with your classes and colleagues as long as they are not edited in any way, Cliparts & Resources shared for free are not to be used as printables for sale.